Non-Emergency Transportation (NEMT) Available for Members to Purchase Infant Formula
Non-Emergency Transportation (NEMT) is also available for members to get to locations where they may buy formula through August 31, 2022. To arrange transportation, please call NEMT at 1-855-397-3601.
Happy Health Center Week
National Health Center Week (August 7 – 13) is an annual celebration with the goal of raising awareness about the mission and accomplishments of America's health centers over the past five decades.

Carolina Complete Health Network is a proud partner of the North Carolina Community Health Center Association, whose mission is to promote and support patient-governed community health care organizations and the populations they serve.
Join us in saying thank you to Health Centers around the state; "The Chemistry for Strong Communities"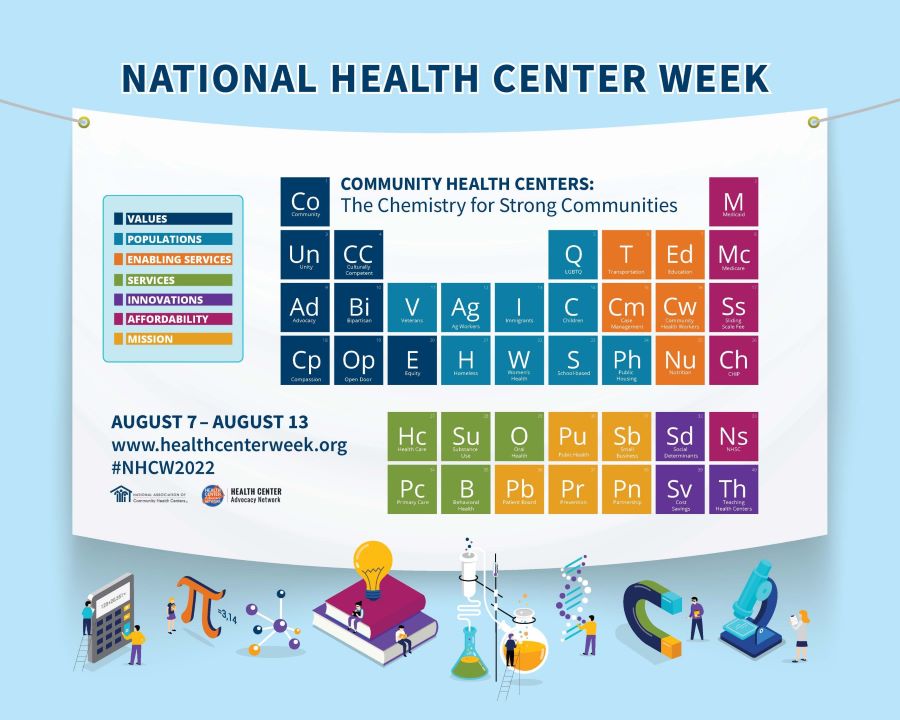 Getting Started with Carolina Complete Health
This guide provides need-to-know information regarding the provider portal, securing prior authorizations, important phone numbers, and more!
This document provides timely information related to known issues impacting providers. This will be updated weekly on Thursdays.
Carolina Complete Health has attested to the use of the following policies:​

Revised policy NC.CP.MP.117Spinal Cord, Peripheral Nerve, and Percutaneous Electrical Nerve Stimulation ​
CP.MP.40 Gastric Electrical Nerve Stimulation
CP.MP.203 Diaphragmatic Phrenic Nerve Stimulation​
Revised Policy CP.MP.146: Sclerotherapy and Chemical Endovenous Ablation for Varicose Veins​

The following codes were added in the list of codes that support medical necessity: 36482 & 36483​

More specific guidance on genetic testing has been adopted for several areas of genetic evaluation; please see the following for current guidance. We anticipate further guidance on several other genetic topics in the coming months.​

Adoption of the following Genetic Testing Clinical Coverage Policies (CP.MP.227, CP.MP.217, CP.MP.218, CP.MP.219, CP.MP.220, CP.MP.224, CP.MP. 226, CP.MP.228, CP.MP.229, CP.MP.230, CP.MP.236, CP.MP.237, CP.MP.238, CP.MP.239, CP.MP.240, CP.MP.241)​